| | |
| --- | --- |
| | This page is under construction. |
Shoebill (ハシビロコウ, 嘴広鸛, Hashibirokou) is a Friend that appeared in the Kemono Friends game and anime.
Media
Mobile Game (2015)
Voice Actress: Murakawa Rie (村川梨衣)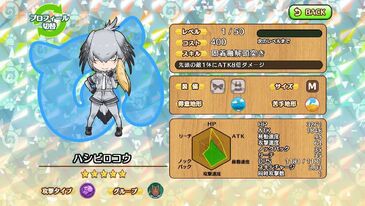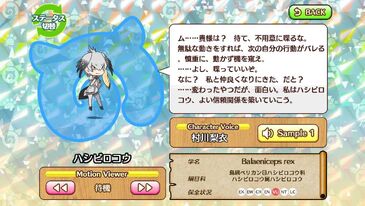 Japanese version
"Mu... ... kisama wa? Mate, fuyoui ni shaberu na. Muda na ugoki wo sureba, tsugi no jibun no koudou ga bareru. Shinchou ni, ugokazu ki wo ukagae.. ... Yoshi, shabette ii zo. Nani ? Watashi to nakayoku nari ni kita, da to?... ... Kawatta yatsu da ga, omoshiroi. Watashi wa Hashibirokou, yoi shinrai kankei wo kizuite ikou."
English version
"Who are you...? Wait, do not speak carelessly. If you make useless movement, the next move will be exposed. Cautiously, without movement wait for a chance... ... Okay, you can speak now. what? You come to befriend me you said?... ... What an unusual guy, interesting. My name is Shoebill, let's build mutual trust."
In-Game Stats
Shoebill
Rarity
★★★★★
Evasion
95
HP
10,437
Speed
64
ATK
5,908
Knock-Back
35
DPS
3,781
Reach
35
Quote
| japanese | Romaji | English Translation |
| --- | --- | --- |
| 俺のグループは、自分が生まれ育った場所に誇りを持っている。そう信じている。 | Ore no guruupu ha, jibun ga umare sodatta basho ni hokori wo motteiru. Sou shinjiteiru. | My group is, taking pride in the place where they're born and bred. I believe that. |
| 暇ならば俺と我慢比べしないか? 我慢することはなんでもいい、忍耐力を更に伸ばしたいのだ。 | Hima naraba ore to gaman kurabe shinai ka? Gaman suru koto ha nandemo ii, nintairyoku wo sara ni nobashitai no da | If you're free, would you like to do contest of endurance with me? You can do self-control on anything you like, I want to prolong my patience more |
| ... ... よし、問題ない。では指示を頼む。 | ... ... Yoshi, mondai nai. De ha shiji wo tanomu | ... ... Okay, there is no problem. Now then, please give me the instruction |
| 貴様に伝えておくことがある。... ... 慎重な俺によく合わせてくれること、感謝しているぞ。 | Kisama ni tsutaete oku koto ga aru... ... Shinchou na ore ni yoku awasete kureru koto, kansha shiteiru zo | I need to tell you something... ... To put up well with someone so prudent like me, I'm grateful |
| まだ出発はしない、か。では身なりの再チェックでもしておこう。身だしなみは常によくないことな。 | Mada shuppatsu ha shinai, ka? De ha minari no sai chekku demo shite okou. Midashinami ha tsune ni yokunai koto na | Not going yet? Well then, let's check your attire once again. Because you always look messy |
| ... ... ム、貴様か。一緒に遊ばないか? ならば周辺を確認したからだ。しばし待て | ... ... Mu, kisama ka? Issho ni asobanai ka? Naraba shuuhen wo kakunin shita kara da. Shibashi mate | ... ... Hm, it's you. Do you want to play together? If it so let's do it after I checked the perimeter. Please wait a second |
| ... ... 「 」か。貴様の慎重さも、俺と肩を並べるまでになったな。とても嬉しいぞ | ... ... [ ] ka? Kisama no shinchou-sa mo, ore to kata wo naraberu made ni natta na. totemo ureshii zo | ... ... [ player name ] is it? Your cautiousness level is even becoming on par with me now. I'm really happy |
Anime
Voice Actress: Komori Misae (小森未彩)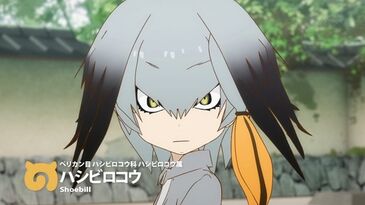 Shoebill first appeared in Episode 6: Plains. She is one of the grunt in Moose team.
In Real Life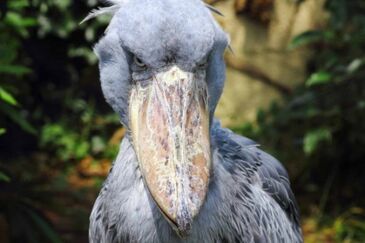 External Links